Review: Firefox 1.5 (RC3)!!
First lot of guys won't believe that its the latest Firefox (as you can see in my last blog). So here see this:
.
The about screen


OK you see the version as 1.5? Do you believe now? Now i must apologize that this page will be very very slow due to this posts. Its full of images you know :D
Installation

Installation was a breeze. Just like previous version it had custom and default settings and they made it bit shorter this time. This time it all get installed very quickly. Plus it can retrieve information from other browsers. By information i mean everything not just Bookmarks as wee saw in Flock. Well you may say there is nothing new. Old firefox had it all. Well i am writing this for newbies also.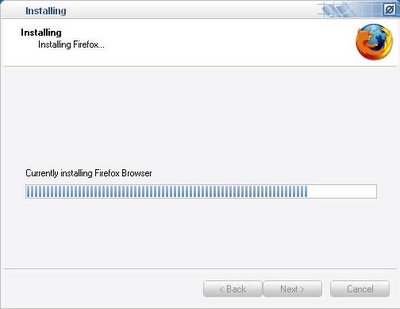 The installation screen


Features
Automated update to streamline product upgrades. Notification of an update is more prominent, and updates to Firefox may now be half a megabyte or smaller. Updating extensions has also improved.
Faster browser navigation with improvements to back and forward button performance.

Drag and drop reordering for browser tabs.

Improvements to pop-up blocking.
Clear Private Data feature provides an easy way to quickly remove personal data through a menu item or keyboard shortcut.

Answers.com is added to the search engine list.

Improvements to product usability including descriptive error pages, redesigned options menu, RSS discovery, and "Safe Mode" experience.
Better accessibility including support for DHTML accessibility and assistive technologies such as the Window-Eyes 5.5 beta screen reader for Microsoft Windows. Screen readers read aloud all available information in applications and documents or show the information on a Braille display, enabling blind and visually impaired users to use equivalent software functionality as their sighted peers.
Report a broken Web site wizard to report Web sites that are not working in Firefox.
New support for Web Standards including SVG, CSS 2 and CSS 3, and JavaScript 1.6.
Many security enhancements.
The Burning Edge has
more detailed lists of notable bug fixes
in each of the alpha and beta versions leading up to Firefox 1.5 RC3.
[Taken from Firefox Website]
So the most notable improvement is the addition of SVG (Scalable Vector Graphics) which is very useful for better browsing experience and the drag and drop tab arrangement.
A site using SVG viewed through Firefox
The options window has all the same thing last Firefox had.
As usual the default page is the Firefox customised Google Search Page.
A view of 4 The Geeks in Fire fox
Conclusion

Though most of the new addition is not viewable, as it being mainly security updates and such, Firefox rocks as it ever does. It is a must download for Firefox fans and its time for other to migrate to firefox by now. Come on lets take back the Web!
Updates:
Here i will list my newly discovred stuffs in Firefox



Just realized that the Flock people copied the view of Firefox. Damn them! Yeah Firefox also shows error messages in style :D .

Installed Google Toolbar. Decided to dumb IE forever and for good.
Downloaded many extensions and themes. Phew cool one. Only one problem. I need a bigger screen now to view all these toolbars
Bugs-Need some pesticide!
So many bugs in the new version. Here are some i found.
Can't post in Blogsource Blog
Can't view recetly posted images in most of the blogs including Blogger, Wordpress etc.